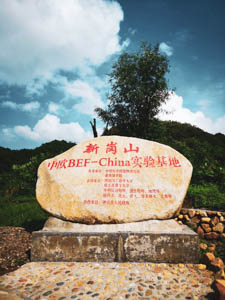 BEF-China
The Biodiversity–Ecosystem Functioning Experiment China (BEF-China) platform has been jointly set up by Chinese, German and Swiss researchers since 2008. BEF-China aims at explaining effects of species loss on ecosystem variables and at deciphering the underlying processes. A wide range of scientists contribute to the BEF-China projects , involving groups focusing on multiple diversity dimensions, multiple ecosystem components and multiple ecosystem functions. The dimensions of biodiversity include species diversity, functional diversity and genetic diversity; the components of ecosystems include plants, animals and microorganisms; and the functions of ecosystems include productivity, nutrient cycling, decomposition, multi-trophic interactions, resistance to soil erosion and other stress-resistance abilities.
News
---
An international team of researchers led by Prof. MA Keping from the Institute of Botany of the Chinese Academy of Sciences (IBCAS) h...
Studying the mechanisms of species turnover is key to understand community assembly in ecology. However, it is rarely investigated th...
---
The platform is managed by


The funding support agencies