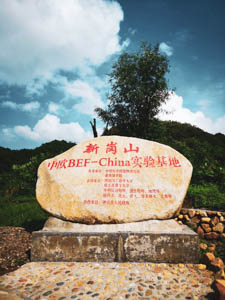 BEF-China
The Biodiversity–Ecosystem Functioning Experiment China (BEF-China) platform has been jointly set up by Chinese, German and Swiss researchers since 2008. BEF-China aims at explaining effects of species loss on ecosystem variables and at deciphering the underlying processes. A wide range of scientists contribute to the BEF-China projects , involving groups focusing on multiple diversity dimensions, multiple ecosystem components and multiple ecosystem functions. The dimensions of biodiversity include species diversity, functional diversity and genetic diversity; the components of ecosystems include plants, animals and microorganisms; and the functions of ecosystems include productivity, nutrient cycling, decomposition, multi-trophic interactions, resistance to soil erosion and other stress-resistance abilities.
News
---
AbstractGlobal change exposes forest ecosystems to many risks including novel climatic conditions, increased frequency of climatic ex...
AbstractBiodiversity experiments have shown that high species richness increases productivity in forests. However, forests are divers...
---
The platform is managed by


The funding support agencies